After I made the decision to go on vacation it was time to buy a scooter. I wanted something low maintenance and reasonably modern, possibly with storage space under the seat:
For a long time I followed the developments around the AppScooter. I like the monocoque approach, the flexible triple battery approach and the gigantic trunc. But since its producer Etergo BV has been acquired by Ola Electric Mobility Pvt Ltd nothing has been heard of them. Hopefully they will be produced some day.
The new model from unu with a large storage and a pretty sleek design seems also nice. But it has very long delivery times of more than 20 weeks.
The third nicest option seemed to be the Niu N series. Not as elegant, a much smaller storage space and the technical approaches generally are far less sophisticated. But a decent scooter I can drive now is better for my vacation than a maybe never available genius concept or an order delivered half a year later.
I oggled les petites annonces and found an attractive offer near the French/German/Luxembourgish border. A metallic red 2017 Niu N1S civic for 1350€. While talking with the sellers to negotiate and arrange everything, I found out that they had used a second battery with a rather simple Y-cable. I inquired about the second battery and the cable and they sold me the scooter with two batteries, two chargers and the cable for 1950€. A good price considering that with electrical scooters one pays the "gasoline" in advance when buying the battery as the electricity costs are negligible with <3kWh/100km. After some back and forth about the needed papers for insurance I took a big leap of trust and wired them the money. Believe me that I got a little nervous, but I decided to have faith in humanity. Registering the insurance turned out to be very easy. Now all I needed to do is buy all the accessories and take the train to the border.
For my luggage, I ordered a rack with a blotched paint job from a less than stellar seller, whom I in hindsight suspect of comitting tax fraud. I had some trouble with him. In the end it all went well but in between he caused a lot of stress. The seller is active on ebay, ebay Kleinanzeigen and with his local shop in Southern Germany. Later I discovered that others had trouble with him as well. If you are in for a Niu scooter rack, feel free to write me, so I can warn you.
On top of the rack I put the only top case I could find that was neither prohibitively expensive nor terribly ugly. The eyecase L32 by niemann und frey is pretty nifty. A spring keeps the lid open and spares my fingers and nerves. And the elegant two sides turning locking mechanism brought me a lot of joy. A very nice top case for small money. I decided to put all the hard to replace things that needed to stay dry in there. Mostly my camping gear and toiletries. My most valuable belongings went into a small backpack I could carry with me at all times and the rest (clothes and an extension cable) I put in a smaller blue IKEA bag which I strapped on with the most genius invention of all time: an elastic luggage net. Get yourself one, if you go on a ride. Nothing is as flexible, practical and useful. To use my phone for navigation I bought a simple holder. The last important thing besides a reflective security west for foggy nights is a bycicle lock. You need it also to lock the scooter in insecure areas but most importantly to lock the helmet when you are visiting something.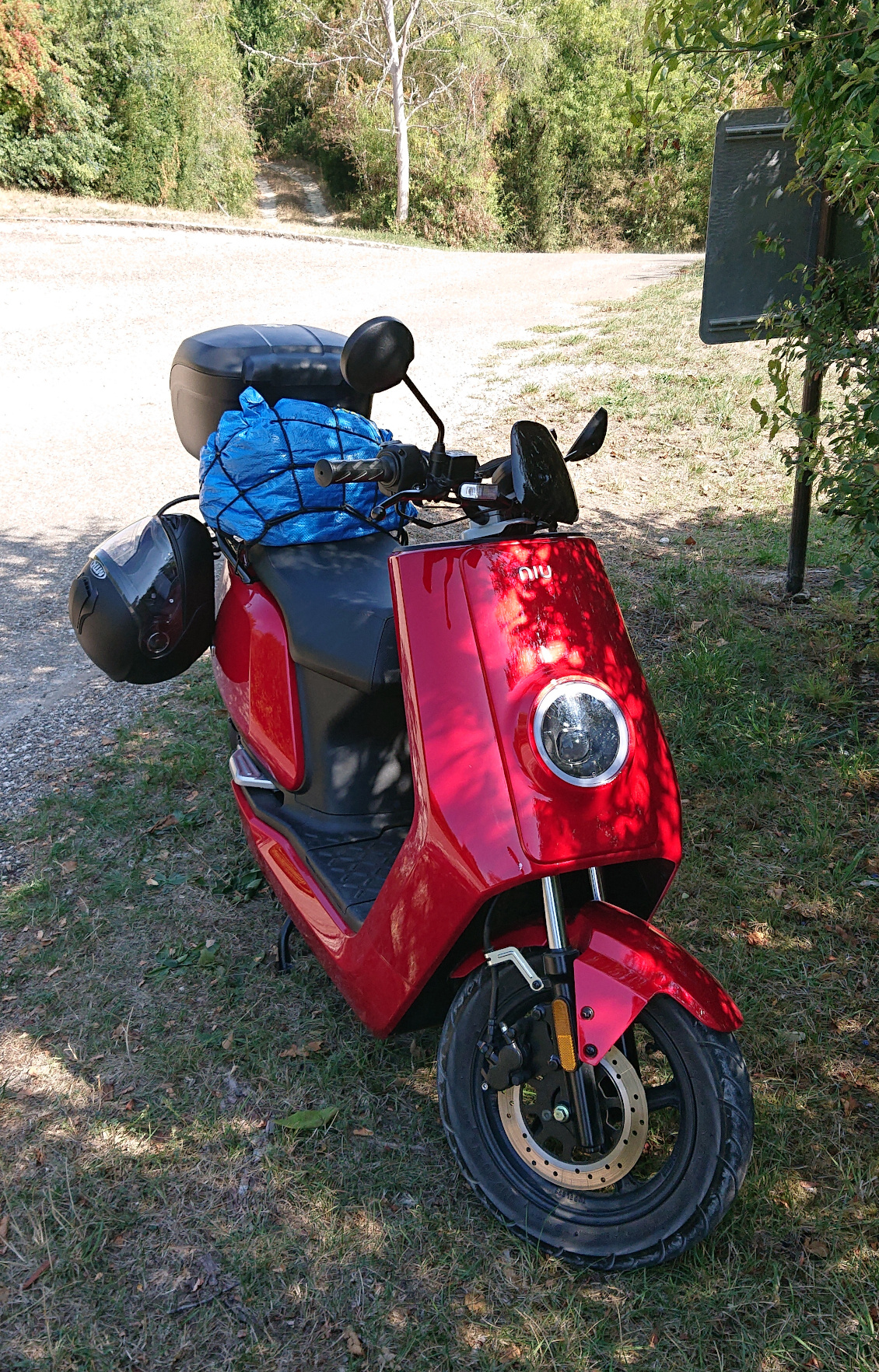 Finding said helmet was a drama. I have a very long but not very wide head and get headaches easily. I went to almost all the different motor cycle accessory stores in Berlin and spent several days trying on helmets for many hours. In the end I found something that fit me on the last day before departure. The best salesperson of all those people was René (Hoffentlich schreibe ich deinen Namen richtig, vielen Dank nochmal für alles 😊) from the Louis Store in Berlin-Lichtenberg nearby the Đồng Xuân Center. He truely understood what I wanted to do and helped me so much. He deserves praise and a raise!